Who is Dan Kennedy?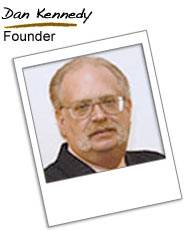 Dan Kennedy is the founder of GKIC.
Dan Kennedy is a direct-response marketing consultant, best-selling author and speaker. He is a multi-millionaire entrepreneur and a trusted marketing consultant, advisor and coach to hundreds of entrepreneurs running businesses from $1 million to $1 billion in size.
For 30-plus years, he has created winning marketing campaigns for a wide range of companies focused on such disparate areas as health, beauty, diet, software and investments.
His speciality, however, is information marketing. Dan Kennedy has helped book, home study course, online course and newsletter publishers; seminar, conference and event promoters; coaching organizations and associations.
He still reaches and influences more than 1 million independent business owners via newsletters, telecoaching, local chapters and Kennedy Study Groups in more than 100 cities. Dan Kennedy's influence also reaches a network of top niche consultants in nearly 150 different professions.
His books include The Ultimate Marketing Plan: Target Your Audience! Get Out Your Message! Build Your Brand!; The Ultimate Sales Letter: Attract New Customers. Boost your Sales; How to Make Millions with Your Ideas: An Entrepreneur's Guide; My Unfinished Business; No Rules: 21 Giant Lies About Success and How to Make It Happen Now; and How to Succeed in Business By Breaking All the Rules: A Plan for Entrepreneurs.