Phoenix Mastermind Groups
The Key to LONG-TERM Growth and Success is Finding A Way to Stay Informed and Motivated on A CONSISTENT Basis.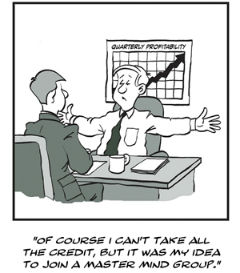 You've heard the term "Spontaneous Combustion"? That describes what happens in a mastermind group. You can't appreciate it until you've experienced it. As Napoleon Hill says in his classic book, "Think and Grow Rich," the power and experience of ten minds melded together create the power of 100 minds.
It's like all the brains in the room are connected together. One person's idea sparks another's, and another's until strategies and opportunities are revealed that were never thought about or considered before. The Mastermind experience has an almost mystical power about it.
Of course for this to consistently occur, the explosive mental energy of the group must be harnessed. I am a master facilitator. I have been a member of Mastermind groups for 35 years and facilitating Mastermind groups for 25 years. Watch the short, 5 minute video to see what current and past Mastermind members think about the process.

Of course who's in the group matters, too. No slackers are admitted. Every woman and man applying is personally screened by me. You have to already have some game to get in this game.

Delivering on your promises, doing what you say you are going to do, and achieving the results you want can only be done through consistent execution. And yet this simple and crucial concept continues to be one of the great unaddressed issues in organizations today.
There are some key principles at play that, if violated, make execution increasingly difficult to achieve, but if adhered to, turn it into a natural habit that results in better financial outcomes, higher levels of trust, and sustainable success at all levels.
I've found one of the best ways to do this, to tap into brilliantly simple money-making ideas, is by joining a Mastermind Group and we have multiple groups right here in the Phoenix area.

In his all-time classic, Think and Grow Rich, Napoleon Hill said in Chapter Ten (The Power of the Master Mind, The Driving Force - The Ninth Step to Riches) that the power of 10 minds working together in perfect harmony was not just 10 times more powerful than one mind, but 100 times more powerful. He also stated, "Great Power Can Be Accumulated Through No Other Principle."
Andrew Carnegie, Henry Ford, Thomas Edison, Harvey Firestone, and other wealthy men of their era participated in an organized mastermind alliance. These men enunciated to Hill the belief that putting their minds together in harmonious, progressive thought, multiplied their power exponentially. Hill subsequently found the same principle at work in other "mastermind alliances."
Hill also defined the Mastermind concept as a "coordination of knowledge and effort, in a spirit of harmony, between two or more people, for the attainment of a definite purpose."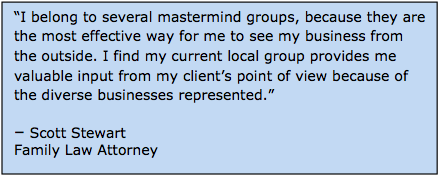 (Or, "How do I get results FASTER than I've ever known with the help of my peers?")
A Mastermind group can be described as part Board of Directors and part peer advisory group. Its power can lift your mind and vision so you can see things that you otherwise could not.
The "big secret" is that great minds DON'T always think alike. That's why most successful leaders say that their biggest success secret is being an active participant in a Mastermind group with other smart people.
The idea is to have objective, frank and knowledgeable "sounding boards" for your ideas and issues – including things you may not openly discuss with employees, friends or even family.
It's advantageous to have a "sounding board" with no axe to grind and no agenda, that you can bounce ideas off of and talk out problems with.
Our groups are comprised of high-energy "doers" who have an open mind to new or different strategies and have a burning desire to push their incomes to record heights.

I boldly predict, with 100% confidence, that the ideas, support, feedback, encouragement, and accountability you receive from the group each month will prove to be the biggest single reason that you exceed your goals in 2017 and beyond.
The requirements are simple.
You must be a Member of the Arizona Marketing Association (membership is included for Mastermind members)
This is a 12 month commitment. At the end of 12 months your commitment automatically renews for 90 days (You may opt out after 12 months).
You must attend at least 75% of scheduled Mastermind meetings.
You are willing to share your ideas and strategies.
You have an open mind, because it is quite likely you will learn new ways to grow your business – ways you have never considered.
The benefits are HUGE!
The Phoenix Mastermind Experience Provides:
A carefully designed and facilitated, high quality Mastermind experience.
Increased focus and clarity by meeting live and in person away from your office, home, and everyday distractions.
Total immersion in the solutions, strategies, and BIG thinking, and BIG ideas to grow your business fast (even in the new economy).
Exposure – I often feature or quote Mastermind members at live events, in articles and books.
Your business is dissected, examined, and worked on with a focus of your choosing.
You're part of multiple intelligence, member help a member fraternity
Deal-making with other movers and shakers
Membership Criteria:
Be willing to share, your victories, failures, frustrations, and problems
Attend 'at least' 75% of scheduled live mastermind events
Have an honest desire to grow your business
Maintain confidentiality of all sensitive information discussed at the Mastermind meeting
You qualify and are accepted
This Program is Perfect for You If…

You have an honest open mind and progressive attitude
You are extremely busy and need a time-efficient way to learn and grow
You are highly motivated to make improvements in marketing and sales methods
You are eager to substantially increase your income
You are eager to bend the business to facilitate personal and lifestyle preferences –to be its master, not its slave
You are willing to share ideas and experiences, and help other like-minded business people
You value being part of a creative process
You are a practitioner of the "principle of the slight edge" – a successful person always seeking improvement
You can be counted on to participate
You're self-motivated, resourceful, reliable, and are a quick implementer
You are open to "outside the box" ideas
You qualify and are accepted
This Program is NOT for You If…
Joining will be a financial hardship
You are set in your ways, stubborn, fearful of change
You are a "know-it-all"
You are a high maintenance whiner
You have trouble making decisions
You are selfish
2 Groups for 2018
Elite CEO Mastermind Experience (limit 10)
$797

per month - 12 month commitment
Monthly

Full Day Private Small Monthly Mastermind Group Session ($800 value)
60 Minute Group Follow-up Monthly Implementation & Strategy Call ($150 value)
30 Minute "break all barriers super focused meeting of the minds" with Chuck ($375 value)
Q & A Submissions ($200 value)

Membership in Partners Mastermind & AzMA Hall of Fame Membership ($1,116 value)
Access to Affiliate Partners, Joint Ventures, and Other Resources

(priceless)

$1,500 discount on a 1/2 day of private consulting with Chuck Trautman (1/2 day rate currently $3,000)
Total Value: $2,641 per month
*Priority Consideration & Waiting List Placement For Private Coaching Group and Premier National Mastermind Group
BONUSES For Taking Fast Action…
Lock In The Lowest Available Investment For Up to

24 Months

Individual Private 30-Minute Coaching Call
Spouse and/or Business Partner Included for $97 per meeting
1st option for upgrade when seats in higher levels become available
Partners Mastermind Experience
$499

 per month
Monthly

90+ Minute Mastermind Meeting ($300 value)
Educated Business Owner-Partnerships ($200 value)
GSD (Get Stuff Done) Days / Brown Bag Lunch ($150 value)
Personal Implementation Course Modules ($600)

Weekly Support/Accountability Programs ($300 value)

Personal Implementation Plan Check-ins
Private Facebook Group
Email Support

AZ Marketing Association Hall of Fame Membership ($100 value)

Monthly Marketing Summit
Arizona Marketing Academy (Online Resources)
24+ Pages of Content for Your Newsletters (and your clients)

Bonuses

Mastering Think and Grow Rich Course - 16 Modules ($897)
Daily Auto Focus Program
Priority List For CEO Mastermind Groups
Total Value: $1,116 per month + Bonuses
*Advanced Consideration & Opportunity To Obtain Private Coaching/Client Status
Save